Můj život se změnil v okamžiku, kdy jsme s manželem začali přemýšlet o dětech. Seděli jsme na balkóně našeho domečku a povídali si. Ještě teď si vzpomínám, že bylo léto (ale už je tomu pěkných pár let)

Jsem ráda, že vzpomínky opravdu v paměti zůstanou. Věděli jsme, že pro naše děti budeme chtít to nejlepší. Vždyť takové přání má nejeden z nás rodičů.
Nejlepším způsobem, jak dostat do těla potřebnou dávku vitamínů, jsou čerstvé šťávy. Koupili jsme odšťavňovač a čerstvé šťávy se staly součástí jídelníčku.
Přiznám se vám, že nikdy jsme nebyli s odšťavňovači naprosto spokojeni. Byly hlučné, nedovedly odšťavnit spoustu druhů ovoce a zeleniny. Ovoce i zelenina se musely krájet na malé kousky, odpad byl mokrý… No, mohla bych se rozepsat ještě více.
Nedávno jsme si pořídili opravdovou "mašinu". Takhle se vyjadřuje můj manžel, za tento výraz se omlouvám.

No dobře, pořídil mi ji manžel, jelikož už se nemohl dívat na moje každodenní zápolení se starými odšťavňovači.
U nás si našel své místečko odšťavňovač Kuvings hned a používáme jej opravdu denně. Nemohu si vzpomenout na den, kdy bychom jej nepoužili. Zvládne odšťavnit celé kusy ovoce nebo zeleniny. Většinu není zapotřebí krájet. S odšťavňovačem Kuvings C9500 jsme opravdu spokojeni. Holkám můžeme dopřávat denně z čerstvých šťáv neomezené množství vitamínů. Protože čím více jich do sebe dostáváme, tím pro nás lépe. Například vitamínem C se dá léčit vše od nachlazení až po deprese, které se u lidí vyskytují zvláště na podzim.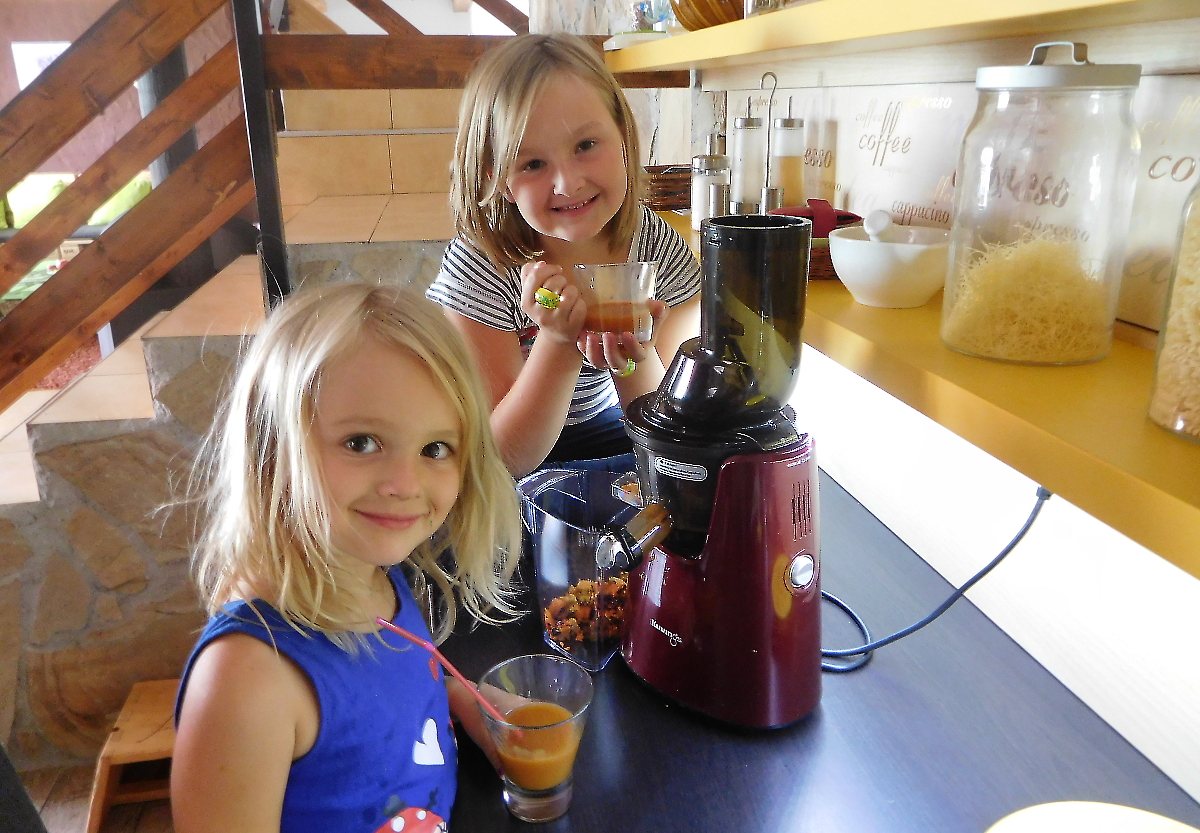 U Kuvingsu má rozhodně důležitou roli použitý "šnek", který zvládne "pochroustat" opravdu vše. Odpad ze zeleniny či ovoce je naprosto suchý – je zde vidět maximální výtěžnost. Samotná chuť šťáv se s ostatními odšťavňovači nedá porovnat.
Zkušenosti a rady s odšťavňováním jablek
Vzhledem k tomu, že už je u nás nějaký ten měsíc, ráda bych se zmínila o poslední zkušenosti, kterou jsem měla s jablky. U odšťavňovače Kuvings je potřeba si dávat pozor, jaký druh jablek na odšťavnění použijeme. Alespoň budete vědět, jak určité typy jablek kombinovat, jelikož některý druh jablek není vhodný. Ale pokud víte jak na to, odšťavňovač si s nimi lehce poradí.

Doma máme vskutku dobrý sklep. Uschované ovoce i zelenina nám většinou vydrží až do léta. Jak mi můj táta říká: "Vitamíny, je potřeba mít domácí po celý rok. To se Ti nikdy neztratí." A tak jsem ještě nedávno použila poslední zásobu. Jenže, jablka jsou po tak dlouhé době velmi moučná, poněvadž ztratila většinu vody. Odšťavňování je v tomto případě spíše marnou snahou. Místo šťávy si spíše vyrobíte pyré. Leč u mých holek jsou takové šťávy zpestřením svačinky. Vždy mi říkají: "Mami, uděláme si tekutou přesnídávku?" Jejich slovní spojení mě nejednou dostala dokolen.

Odšťavněním moučných jablek získáme spíše pyré nebo přesnídávku.
Teď záleží na chuti každého z nás, zda mu i tato konzistence chutná. Pokud nestojíme o přesnídávku (na kterou je potřeba homogenizační pouzdro – v tomto případě je opravdu lepší jej použít), z vlastní zkušenosti mohu poradit, že při odšťavňování moučných a zralých jablek je potřeba kombinace s nějakou tvrdší zeleninou nebo ovocem. Touto kombinací se vytvoří mnohem tekutější šťáva, se kterou se již odšťavňovač bezproblémů "popere."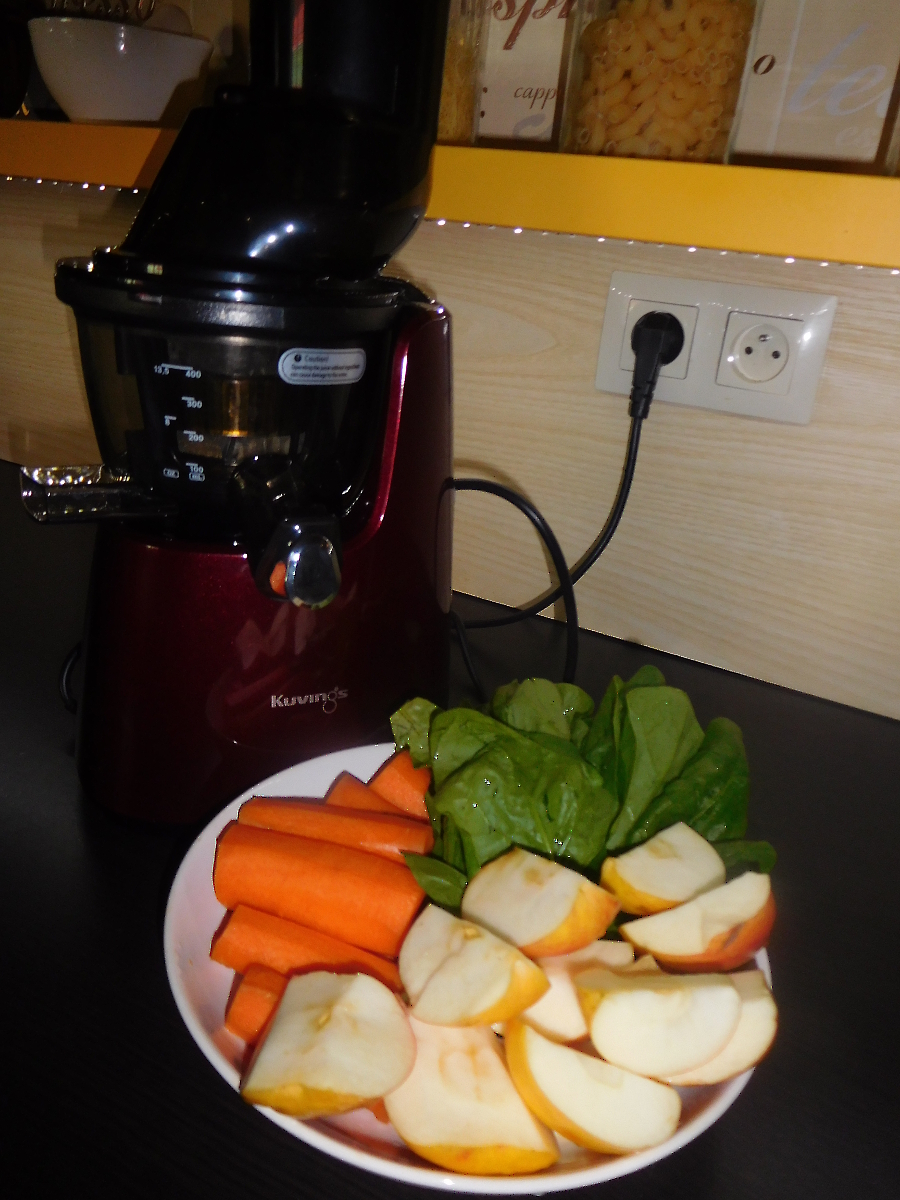 U moučných či přezrálých jablek je nejlepší je nakrájet na malé kousky. Kdybychom jablka použili v celku, odšťavnění by bylo opravdu "uměním". Jak neustále opakuji holkám, když chtějí dělat šťávu: "Holky, ale teď musíte dát kousek jablíčka a pak hned mrkvičku." Většinou mají otázku: "A proč mami?" Pak jim hodně dlouho musím vysvětlovat, že to jablíčko, které tam dávají, je už od loňského podzimu a že by z toho odšťavňovač spíš udělal přesnídávku. Po této mé pravidelné "frázi", když odšťavňujeme jablka, následuje jejich věta: "Tak tam nalijeme vodu, mami.:-)" Se mnou potom všichni čerti šijí, jak se říká.

Naše gigantická jablka musíme krájet vždy
Když už tady píši o jablkách, ráda bych se zmínila o jejich velikosti. Víte proč? V příručkách odšťavňovače Kuvings C 9500 je napsáno, že šnek zvládne "pochroustat" celá jablka. Ano, to je pravda, opravdu to zvládne. Ale už nezvládne "pochroustat" ta naše domácí obrovská jablka. Schválně vkládám fotku, abyste neříkali, že vám "kecám."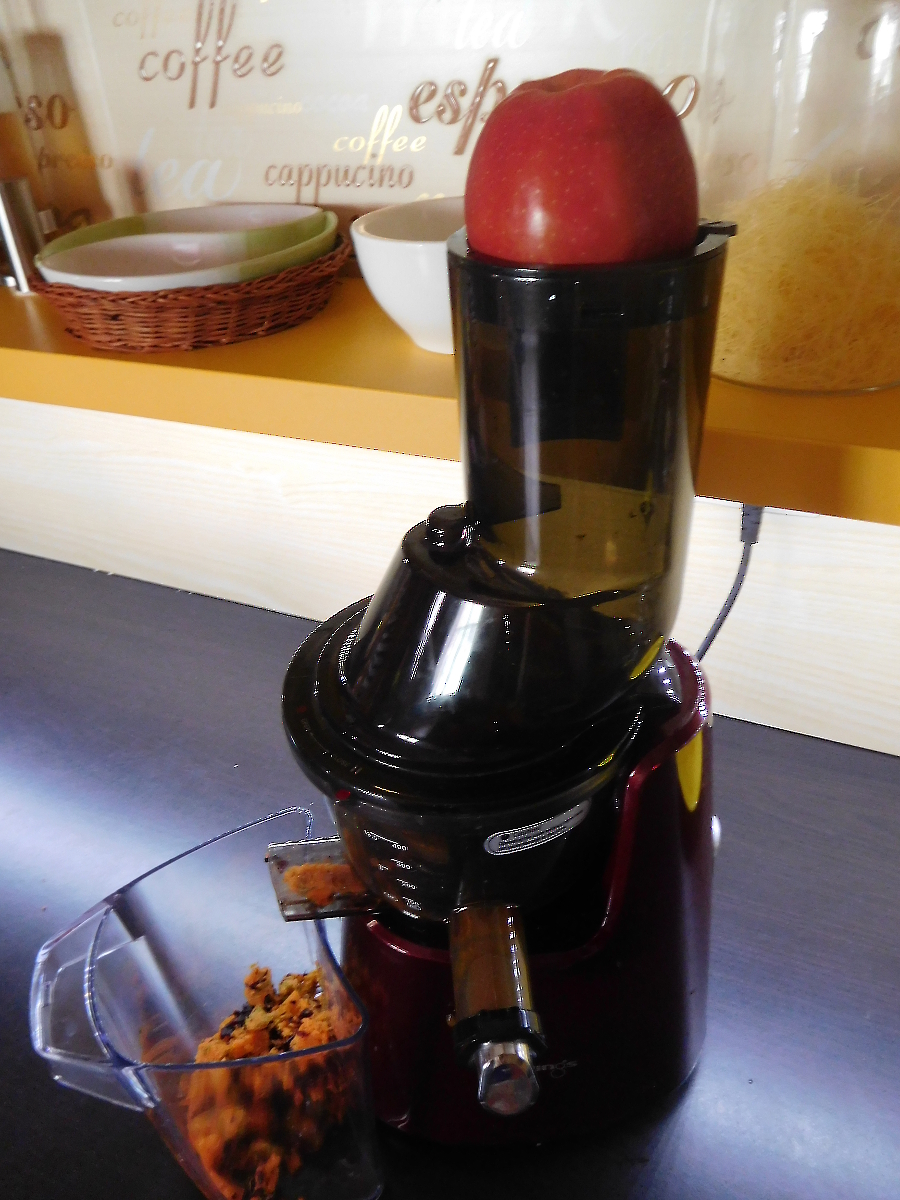 Ať je plnicí otvor opravdu veliký, naše jablka nemají šanci projít. Ale odšťavňovač za to nemůže. Prostě "návrháři" asi nepřemýšleli nad tím, že někomu na zahradě rostou "giganty".

Nezbývá nám nic jiného, než jablka nakrájet a teprve odšťavnit. Tak se prosím nedivte, že pokud uvidíte moje fotky s nakrájenými jablky, není to proto, že by to odšťavňovač Kuvings C9500 nezvládl, ale je to proto, že máme "přerostlá jablka". S jablky normální velikosti si Kuvings hravě poradí.
Jak vidíte, s odšťavňovačem Kuvings C9500 je odšťavňování radostí. Přejeme vám, ať u odšťavňování máte tolik radosti jako my u nás doma. Uvidíte sami, jak dětem přijde směšné, když se do velkého otvoru ne a ne to jablko vlézt.